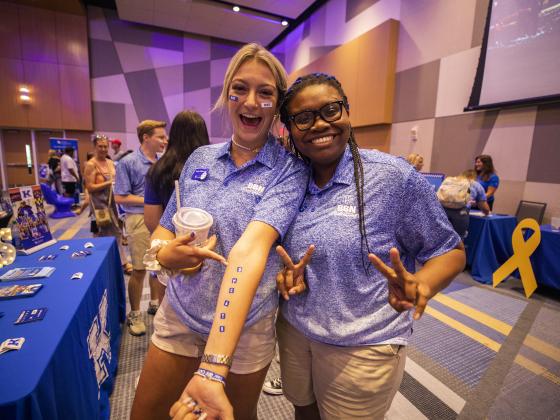 Become a First-Year Experience Ambassador
Welcome the next class of Wildcats
First-Year Experience Ambassadors (formerly known as Orientation Leaders and Parent & Family Ambassadors) play a critical role in shaping a student's first-year experience at UK. First-Year Experience Ambassadors assist in facilitating the Big Blue Nation Orientations and Merit Days. FYE Ambassadors also have opportunities to work with K Week and Family Weekend.
FYE Ambassadors lead new student groups, assist with the check-in and registration processes, assist new students with schedule-making and acclimation to campus life, and many other orientation processes.
Qualifications and Skills
Must be a full-time student at UK for fall 2024
Strong work ethic and willingness to assist others
Positive attitude and professional demeanor
Flexible and willing to take initiative
Enthusiastic and passionate about UK
Working knowledge of campus, campus buildings and campus history
Expectations
Must commit to attending and participating in spring and summer training (beginning June 3, 2024)
Must commit to working all of our in-person summer orientations (June 17 - July 12, 2024)
Expected to assist in-person Merit Days (including one over Spring Break) in March 2024
Opportunities to support K Week (August 2024) and Family Weekend (September 2024)
Opportunities to assist in-person BBN Orientations in August 2024 and January 2025
Benefits
On-campus housing in Jewell Hall is provided during your summer training and summer orientations (June 2 - July 13, 2024)
FYE Ambassador pay of $12/ hour
Branded uniform tops will be provided
Tremendous opportunity for lifelong friends and leadership skills development
As a First-Year Experience Ambassador, you have the unique opportunity to welcome incoming students and their families and guests to the University of Kentucky! You will interact with variety of students – freshmen, transfer, returning – and their guests at Big Blue Nation Orientation and more events during the year. It is your job to help them make the transition from their previous academic institution to UK memorable and enjoyable. Being an FYE Ambassador also helps you learn more about UK and make long-lasting connections across campus.  
The application will be available online by December 1, 2023. Fill out our interest form to be notified when the application opens. 
Looking for information about the Visitor Center Tour Guide job? Visit this page.
Have questions? Email us at orientation@uky.edu.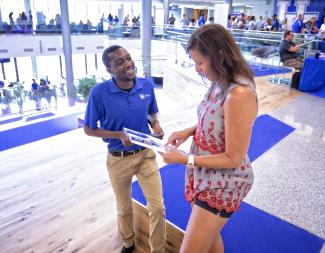 University Community of Inclusion
The University of Kentucky is committed to a diverse and inclusive workforce by ensuring all our students, faculty, and staff work in an environment of openness and acceptance. We strive to foster a community where people of all backgrounds, identities, and perspectives can feel secure and welcome. We also value the well-being of each of our employees and are dedicated to creating a healthy place to work, learn and live. In the interest of maintaining a safe and healthy environment for our students, employees, patients and visitors the University of Kentucky is a Tobacco & Drug Free campus.
As an Equal Opportunity Employer, we strongly encourage veterans, individuals with disabilities, women, and all minorities to consider our employment opportunities.
Any candidate offered a position may be required to pass pre-employment screenings as mandated by University of Kentucky Human Resources. These screenings may include a national background check and/or drug screen.