BBN Orientation Checklist
Online Orientation Hold
You'll see an Online Orientation Hold placed on your account after registering for orientation. It will be lifted on the day of your orientation, as long as you've completed the required Canvas modules in advance of your orientation.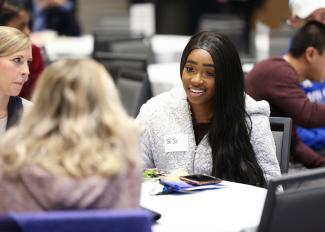 Complete these at least 7 days prior to your orientation date
✔️ Be on the lookout for any information from your college to your UK email address. Some colleges may require you to complete some online modules or forms before your BBN Orientation. More details can be found in your BBN Orientation Canvas course (for both in-person and virtual BBNOs).
✔️ Complete your orientation modules (for both virtual and in-person BBNOs) in Canvas at uky.edu/canvas. Your Online Orientation Hold will only be lifted on your orientation date if you have completed your Canvas course. You'll receive notification at your UK email.
✔️ Your Wildcard student ID isn't complete without your photo! Visit orientation.uky.edu/wildcard.
Schedule and reminders for on-campus BBN Orientation
⚠️ Bring these with you:
If you have a laptop or tablet device, bring that with you to BBN Orientation for course registration. Download the Google Chrome browser, which supports our course registration systems. Students will receive their UK-issued iPad and accessories as part of K Week in August.
Bring a government-issued ID to pick up your Wildcard student ID.
Wear comfortable clothing to be prepared for walking outdoors.
✔️ Students may bring up to two (2) guests to their in-person BBN Orientation.
✔️ Review the latest UK Visitor Health and Safety guidelines regarding face coverings, etc. Effective Monday Aug. 9, masks will be required inside of all University of Kentucky indoor spaces, including both our academic and medical campuses, regardless of an individual's vaccination status.
✔️ You'll park in the Cornerstone Garage at 409 S Limestone, Lexington KY 40506. After you've parked, follow signs to the third floor pedway to campus in stairwell A. Cross the pedway and follow signs and flags into the Gatton Student Center for check-in.