BBN Orientation Checklist
Haven't registered for BBN Orientation?
The checklist below will help you after you have registered for BBN Orientation.
But first, you'll need to be registered for a BBNO!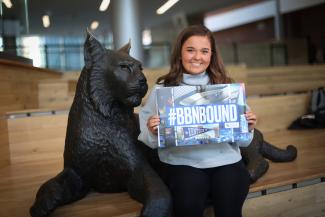 ✔️ Visit go.uky.edu/m365 to check your UK email. Your email address to log in is yourlinkblue@uky.edu (e.g. wldct234@uky.edu). 
✔️ Some of our placement tests require you to complete practice modules, so begin this process as soon as possible. Learn more here.
✔️ Major change requests must be submitted at least 7 days prior to your orientation date. Learn more about major changes. 
Complete these at least 7 days prior to your orientation date
✔️ Be on the lookout for any information from your college, UK Housing, or other offices, to your UK email address. Find information about move-in in August here.
✔️ Complete your orientation modules in Canvas at uky.edu/canvas. You will be added to Canvas 3-4 weeks prior to your orientation date. You'll receive notification to join Canvas at your UK email.  Your Online Orientation Hold will be lifted on your orientation date after you check-in. 
✔️ Request that your high school send us your official, final transcript (with graduation date) so that it is on file at least one week prior to your BBN Orientation. If you will not have a graduation date in advance of orientation, be sure to send us the final transcript after graduation.
✔️ If you attended colleges courses while in high school, official transcripts must be sent from the college awarding the credit to the University of Kentucky by mail or through the online clearinghouse. Once your official transcript is received, we will add your college work to your UK record. If a syllabus is required for the university to make a course equivalency decision, you will see "NEEDSYLL" listed to the right of the transfer course on your UK unofficial transcript. To see how your courses equated, log into your MyUK and review your unofficial transcript.
✔️ Your Wildcard student ID isn't complete without your photo! Visit orientation.uky.edu/wildcard.
✔️ Students attending an orientation in the summer can reserve overnight accommodations the night before and/or after your orientation. Reservations need to be made at least 3 days prior to your stay.
Schedule and reminders for on-campus BBN Orientation
⚠️ Bring these with you:
If you have a laptop or tablet device, bring that with you to BBN Orientation for course registration. Oftentimes, Chromebooks issued by your school district will not connect to UK's Wi-fi. Instead, if possible, please bring a personal laptop or tablet. Students will receive their UK-issued iPad and accessories as part of K Week in August.
Wear comfortable clothing to be prepared for walking outdoors. Bring rain/snow gear if the weather calls for it.
A government issued photo ID is needed to pick up your Wildcard Student ID
✔️ Students may bring guests to their BBN Orientation. The guest fee is $30 per guest for in-person freshman orientations. 
✔️ You'll park in the Cornerstone Garage at 409 S Limestone, Lexington KY 40506. After you've parked, follow signs to the third floor pedway to campus in stairwell A. Cross the pedway and follow signs and flags into the Gatton Student Center for check-in, where most of our orientations are located. 
⏰ Freshman students attending an in-person BBN Orientation between March and July 2024 will need to check in on the day of their BBN Orientation by 8:15 a.m. Eastern time. Most students will be finished by 4:30 p.m.
⏰ Transfer and readmitted students attending an in-person transfer BBN Orientation will need to check in on the day of their BBN Orientation by 9:15 a.m. Most students will be finished by noon.
⚠️ If you or your guest requests interpretation services or accommodations, please reach out to orientation@uky.edu at least a week prior to your orientation date.